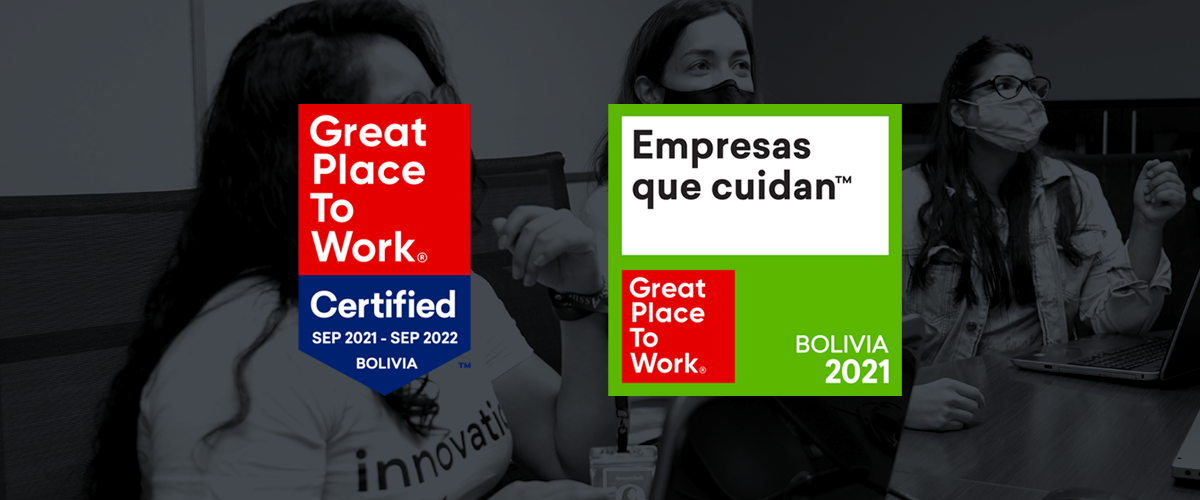 2021 was a year of many goals accomplished. Some events allowed us to meet again in our offices, and the celebration of the "Great Place to Work" certification was one of them.  
This achievement fills us with happiness and pride, and reinforces the goal of promoting a positive culture, making people feel safe and helping them enjoy what they do.
We are the first software development company in Bolivia to obtain this certification, which means that AssureSoft has a healthy corporate culture that guarantees the care and development of its employees, one of the fundamental pillars for being an excellent place to work.
At AssureSoft we seek to offer the best environment so that all people can be the best version of themselves and develop their full potential. Health care, both physical and emotional, is very important to the company. 
Throughout this time, we have provided support to our society and environment, contributing to the world to make it a better place, and we have also demonstrated our commitment to the integral care of our employees. All these actions have allowed us to place among the top 10 companies in the ranking of "Companies that care in Bolivia 2021''.
We are sure that 2022 will bring us new challenges and goals to accomplish, and we are ready to continue growing together with talented people who want to join our team.  In this way we can fulfill our mission to be the leading software development company in Latin America.
To all our readers and to those who are part of AssureSoft, we wish for you to end the year with the satisfaction of having achieved great goals. We are ready to make 2022 an even better year. We will continue to train talent, create job opportunities and contribute value to our society and the software industry.
We invite you to learn more about us and discover why AssureSoft is the best place to develop your professional career.